Xairos Newsletter: May 25, 2022
May 25, 2022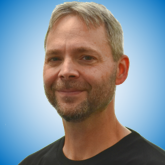 David Mitlyng for Xairos
🎓 The More You Know...
Space + Time - Part 2
In some sense, time is more fundamental than position in that spacetime is fundamentally defined by the evolution of clocks relative to each other. 
For example, the amount of time that an ideal clock reads over the course of a path of motion (called the proper time) is directly related to curvature of spacetime in the vicinity of the clock. In fact, a network of ideal clocks connected via optical signals is actually an instrument that directly measures the shape of spacetime. Relative positions can then be calculated from knowledge of the spacetime structure.
Note that this network of ideal clocks actually defines​ what we mean by synchronizing clocks in the general relativistic sense. Synchronization between two real-world clocks is defined relative to the that of ideal clocks connected by optical links through the specified spacetime structure. In other words, in general relativity there is no single time reference to which all clocks can be synchronized, but with information about the gravitational field we can calculate the behavior of this ideal network of clocks and use that as a time reference for any real-world clocks.

To learn more, please email us or schedule a meeting here.